Back to news
Newsletter June 2022
3 June 2022
Dear Friends of RTDT,
we hope you are doing well.

In this newsletter we introduce RTDT, our mission, the origin story, the product, the value proposition, and the team behind RTDT.
Introduction
Do I know the health state (structural integrity) of my wind turbines? This is a question every owner of wind farms and manufacturer of wind turbines should ask themselves. Unplanned costs due to failures, make up more than half of total maintenance costs, and the simple truth is: only a reliable plant earns money. Online monitoring, diagnostics, and data analytics will be the main tools to lower maintenance costs.
RTDT is a No-code end-to-end Platform-as-a-Service (PaaS) software for condition and Structural Health Monitoring of wind turbines. It is a wind turbine doctor.
Our mission is to make condition and Structural Health Monitoring (SHM) of wind turbines effortless for wind farm owners, engineers, managers, and non-experts. Our technology stack lowers the barriers to entry to users and enhances their capabilities to deploy scalable, research-based, state-of-the-art models and algorithms to extract deep interpretable and actionable insights, in minutes, in a no-code environment.
Foundations
RTDT Laboratories AG was founded in 2022, in Zurich, Switzerland, as a spin-off from ETH Zurich.
RTDT is a spin-off endeavour stemming from fundamental research produced as part of the ERC Starting Grant WINDMIL at the Chair of Structural Mechanics and Monitoring, ETH Zurich, on the topic of "Smart Monitoring, Inspection and Life-Cycle Assessment of Wind Turbines", awarded by the European Research Council (ERC). The WINDMIL research output is now being packaged into a platform which forms the basis of the RTDT spin-off.
The research in the WINDMIL project and RTDT were conducted in collaboration with OSMOS GROUP (experts in SHM and instrumentation). As part of our research collaboration, OSMOS granted us access to three large wind turbines, which we instrumented with various sensors' networks.
More recently, RTDT has partnered with the Zurich-based start-up Adranis GmbH (specialists in IT, HPC, cloud and scientific computing) to build with us the scientific computational backend of the RTDT PaaS.
The first closed Alpha release of RTDT is now live.
The product
Problem
Today's market for wind turbines condition and structural health monitoring and diagnostics is heavily siloed and reliant on specialized single use case software & data.
Establishing on-premise capabilities for monitoring is cumbersome & expensive.

10-20% increase in additional R&D expenditure, and 2-5 additional manpower per year with deep technical expertise;

Lack of holistic view of turbine fleet health due to incompatibility amongst software.

Unplanned costs due to failures on wind turbines make up 50% of total maintenance costs due to incoherent O&M planning and bad decisions detrimental to assets lifetime;

Mis-management of models, data & compute infrastructure.

Loss of crucial turbine health insights due to siloed output information in each software and its IT infrastructure, leading to a loss of CHF 10 per megawatt-hour in levelized cost of electricity.
Solution
One place (platform) for users "of all skill sets" to connect data from any source on wind turbines and deploy a library of state-of-the-art physics-based and artificial intelligence models for real-time condition and structural health insights, in minutes, at scale and with little training or expertise.
Product
RTDT is a Platform as a Service (PaaS) that makes running advanced condition and structural monitoring and diagnostics of wind energy assets at scale easy, flexible and standardised. Customers use the output from RTDT to optimise Operation & Maintenance costs and make better decisions to ensure maximal lifetime of their assets. Towards this end, RTDT exploits information from any sensors' networks to deliver analysis to predict in advance any issues and anomalies with wind turbines' components.
Science
At the core of RTDT are a fusion of physics-based, data-driven, hybrid and deep Graph neural network models that enable true virtualization and digital twining of wind turbine fleets.
How it works
On RTDT a user goes to the RTDT web application, adds turbines to a project, starts a monitoring and diagnostics task from a use-case template catalogue, links data sources to a rich library of algorithms/models, runs exploratory offline analysis, verifies the validity of the results (human in the loop), and few clicks later, launches the monitoring service online, where interpretable analysis metrics and indicators are displayed and updated automatically. All done in few minutes in a no-code environment.
Our Business model
RTDT is a self-service PaaS with a tiered offering. Customers pay a fixed subscription charge per turbine
Value Proposition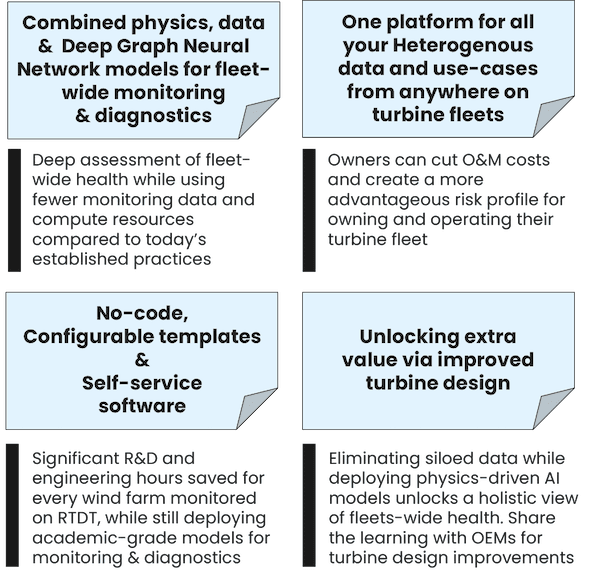 Best ways to help
Warm intros & advice on growth:

We are always looking for tactical advice on growth and partnership recommendations;

Technical Advisory:

If you know any great expert(s) with practical wind industry experience in O&M, condition and structural health monitoring who you think highly of, we would love to speak with them;

Use RTDT:

Get in touch and join us for a session where we introduce you to core technical and business aspects of RTDT.
---
In today's newsletter, we introduced you to the RTDT PaaS, our mission, the origin story, the product, the value proposition, and the team behind RTDT. We will be posting such updates on a regular basis.
Stay tuned.
Best regards,
Imad
Back to news
Subscribe to our newsletter